SERVICES
Program Design and Implementation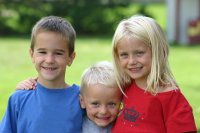 Following the completion of assessment your consultant will develop a treatment plan to address the target behaviour and will provide on-going training on how to implement this plan. Treatment plans may be developed to either decrease a problem behaviour and teach replacement behaviours, or to increase the rate or frequency of pivotal responses such as communication skills and social skills, which are necessary for successful daily living. Treatment plans include the following components:
Individualized to each child and their specific needs
Incorporates the child's strengths and gifts
Developed collaboratively with the family and other team members
Provide a structured step by step procedure for implementation
Implemented across the child's natural environments
Monitoring and Evaluation
During the implementation of the treatment plan, target behaviours are closely monitored to ensure goal achievement. In some cases where goal achievement has not been obtained, program evaluation may lead to re-assessment and program modifications. Program monitoring is undertaken in a variety of ways including:
On-site visits to observe behaviours and programs being implemented in the natural environment
Objective data collection and analysis, including charting progress
Meetings with team members to troubleshoot and discuss goal achievement
Regular telephone contact to follow-up
Discharge Planning
Discharge planning occurs close to the time of renewal of service. Discharge Planning includes the following:
The family is provided the opportunity to evaluate gains made during the course of service and whether goal achievement has been obtained to their satisfaction
Decisions are made regarding the future course of service, or whether to terminate service
Formal discharge letter and package provided to the family should they decide to terminate service
Following discharge, the family may choose at any time to be placed back on the wait list for behaviour support with Helping Hands Behaviour Consulting, should they require additional support in the future.